MINICANAL MICROPHONE HYGIENE
© Roy F. Sullivan, Ph.D., 1995
---
The Video Oto-Endoscope (VOE) is helpful in documenting to the patient both the nature of organic material obstruction to hearing aid function and the appropriate hygiene regimen. While care of the instrument may have been described with oral explanation, practical demonstration and written orientation materials, a malfunction provides an excellent object lesson opportunity for retraining.
Figure A (inline image, below; A-D=16k) shows the basis for a "dead" minicanal hearing aid. Because the microphone is located in such intimate proximity to the VC, sebum and desquamation are constantly being "shaved off" into the edges of the microphone protective cover, providing a "gasket grease" seal when the battery compartment (BC) / microphone cover is closed.
Figure B shows the sebum/desquamation accumulation within the microphone antechamber.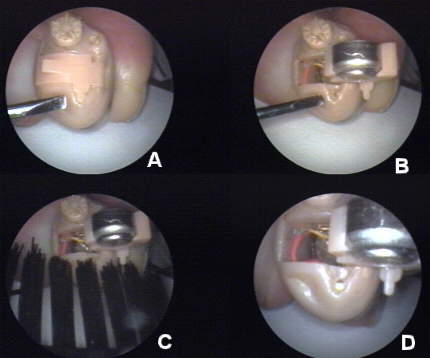 The process of using the wax (mascara) brush to clean organic debris from the exposed microphone antechamber is demonstrated for the patient (Figure C).
Figure D presents the results of the microphone cleaning process.
---
---