CASE STUDY (PFER0208)
---
This 85 year old female hearing aid wearer presented with a self-treated, six-month ulceration of the right lobule. The patient was referred for dermatological consultation where a biopsy was performed. The pathology lab was given the clinical diagnosis: "ulcer, R/O SCC" [ rule out squamous cell carcinoma]. The pathology laboratory report, provided by the dermatologist, reads as follows:
	microscopic description: THE EPIDERMIS IS ERODED AND 
	THERE IS SCALE CRUST.

	microscopic diagnosis: THE HISTOLOGIC FEATURES ARE THOSE OF
	A NON-SPECIFIC EROSION WITH SECONDARY IMPETIGINIZATION. 
	THERE IS NO EVIDENCE OF MALIGNANCY BUT THE FEATURES ARE 
	NOT SPECIFICALLY DIAGNOSTIC.


The dermatologist diagnosed and treated the condition as impetigo. Continued use of the hearing aid was approved with appropriate hearing aid hygiene recommended.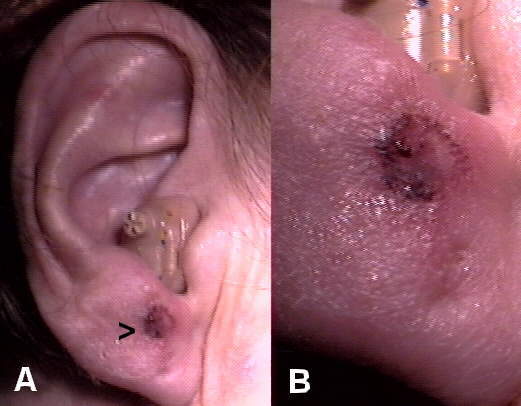 ---
---