CASE STUDY (PONS1): PRIMARY CHOLESTEATOMA IN 16 MONTH MALE INFANT
Case contributed by: Kevin C. Pons, M.A., FAAA
ENT Department, Yankton Medical Clinic;
Yankton, SD
---
Patient was initially seen on 09/03/97 as a 16 month old male child who was noted to have an abnormality involving his right TM by his pediatrician. The child had 6 episodes of otitis media during his first 16 months and 1 following the diagnosis of the congenital cholesteatoma. Physical examination revealed a smooth, white pearly mass arising from the substance of the tympanic membrane in the posterosuperior quadrant. It did not appear to be extending into the mesotympanum very far, although it was hard to tell and it was directly overlying the ossicles. It was decided to observe the child closely to allow some overall growth of the child so as to make surgical removal technically easier. Since these tend to grow fairly slowly, the child was scheduled to return in 3 months to monitor the size of the cholesteatoma. The child was subsequently seen in mid November when it was decided to undertake surgical removal. The VO picture below was taken on November, 2 weeks prior to surgery.
The cholesteatoma was removed in toto. The middle ear could be visualized and the ossicles were intact and not damaged by the tumor. A tympanotomy was then performed in preparation to repair the defect. At this time all the ossicles were confirmed to be normal. The chorda tympani nerve remained intact and no other cholesteatoma or other abnormalities were noted.
Figures below present two views of the dissected cholesteatoma The pathology report demonstrated a cystic structure with indistinct lining but whose features were consistent with a cholesteatoma. The specimen was 1.5 mm at its pedunculated base, 2.5 mm wide and 3 mm in length.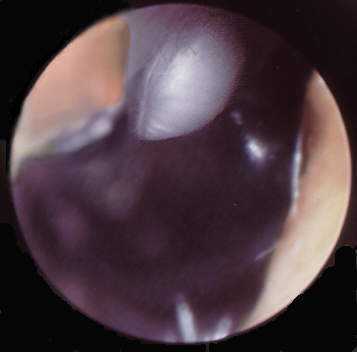 Video Otoscopy of Primary Cholesteatoma, AD in situ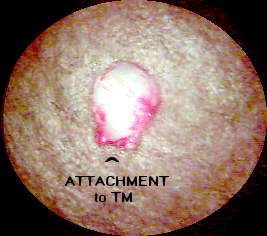 Dissected choleteatoma, superior view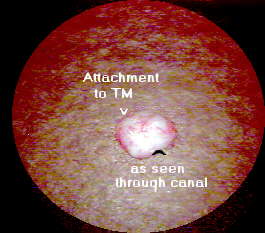 Dissected cholesteatoma, lateral view
---
---