Performances by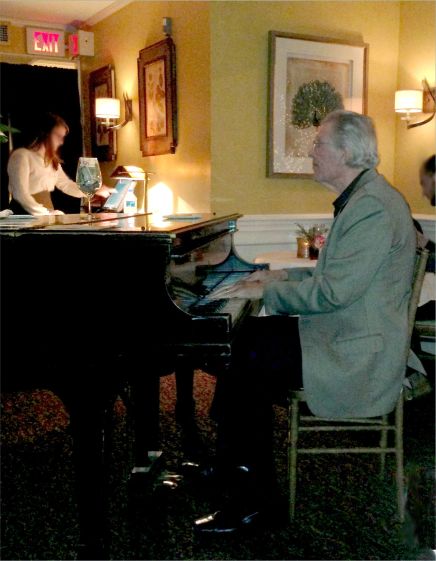 Roy F. Sullivan (above...sitting-in at Bernard's of Ridgefield, CT; Thanksgiving 2013)
E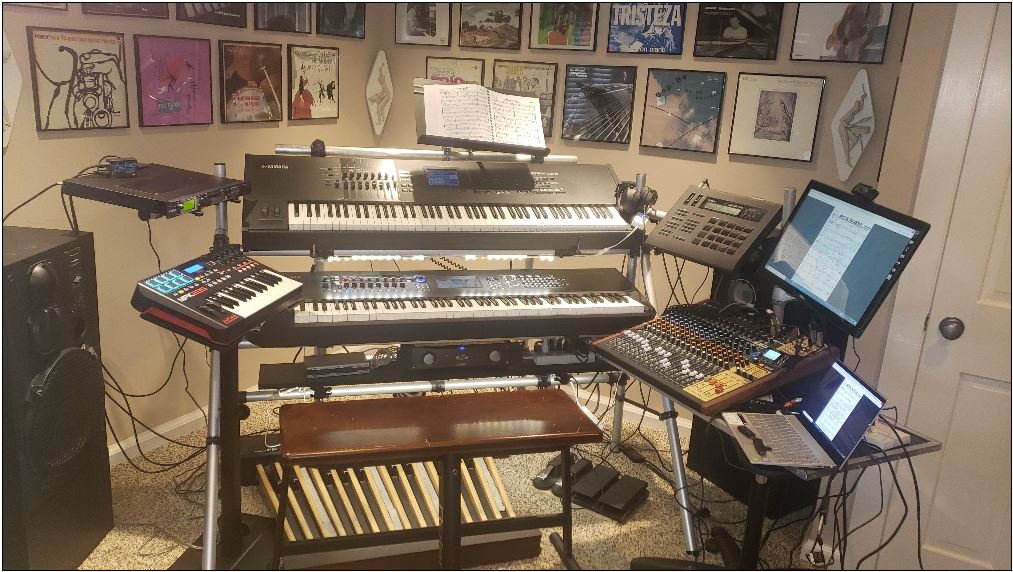 E
My CT studio: Yamaha Montage 8; Yamaha XF 8; Yahama ES rack; Roland R8 drum synth; Roland PK 25 bass pedals; Akai MPK 225 controller kbd; Alesis RA 150 amp; Realistic Mach 2 monitors with 15" woofers; Beyer DT 1770 monitor headset; Tascam Model 24 Mixer / multitrack record/pb.
WELCOME:
With the encouragement of family and friends, I have begun to document some of my jazz keyboard peregrinations. The table below provides access to my recent synthesized opera which have been posted for exposure and review on either the Yamaha Motifator Mo' Songs Forum or the All About Jazz website.
TECHNICALIA:
Except for post #1, all instruments, tracks and songs were performed by me using a Yamaha Motif ES8 as sole keyboard controller. Where indicated in the description, found in the initial post in the "Comment(s)" link, external voice generators or controllers may include: Korg T3, Yamaha Dx7 w/ E! modification; Roland R-8; Roland PK-5 or PK-25 Bass Pedals. Multi-track sequencing was done in the ES8. All tracks are uninterrupted start-to-finish performances and are UNEDITED. This means that I did not, post-hoc, edit out or correct clams (wrong notes), percussion mis-hits, double notes on single note instruments and timing errors (caveat auditor!).
For selections 4 and higher, analog audio output was mixed and A/D-converted via an Echo Indigo stereo I/O PCMCIA card to my Sony Vaio laptop, captured in Sonar Studio 3.1 and converted to .mp3 format using the Fraunhoff Gesellschaft converter. Numbers 1-3 predated my acquisition of the Echo/Indigo card. Selection 1 was done in one, non-sequenced pass with right hand on the Dx7 (guitar), left hand on the ES8 (grand) and left foot on the R-8/PK-5 (bass).
---
After a six year hiatus in my solopsistic, multi-track keyboard-based improvisational recordings, I am very pleased to resurface, embarking with pride on a new venture in the musical company of my son, Evan, an accomplished TV news director by career and a growing, talented percussionist by second avocation (his alternative avocation being minerology.) On tracks 76 and ff., I am currently using Yamaha Montage 8 and Yahama FX 8 keyboards with Roland PK-25 bass pedals driving an acoustic bass patch from a Yamaha ES Rack synth alternatively linked to an Akai MPK 225 velocity-sensitive keyboard controller. There is also a Roland PK-8 drum synth. Evan is playing a Yamaha DTX562K digital drum set. Tracks 76-78 were pre-mixed and recorded, unedited, in one pass via a single stereo USB channel using Audacity. More to follow...
Constructive comments are welcomed: tunes@rcsullivan.com